Bali Rafting Tours provide daily white water river rafting activity, get special price from us for more than 50% discounts for local and foreign visitors. A lot of tourists came to Bali and would like to know more about white water rafting, also try to find things to do in Bali during their holiday. This island paradise has 3 rivers and very suitable for Bali white water rafting. This make plenty of company that manage rafting activity, invest their money to create a rafting company.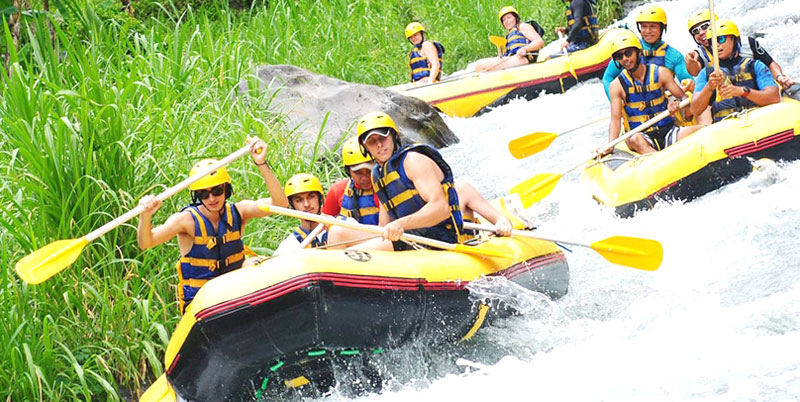 To have rafting activities in Bali during your holiday it's gone cause you extra money of your tour and travel budget, also most people didn't know which rafting company that provide great services, security or safety. Because of this matter, we only recommend and book you at rafting company with excellent services, security or safety and of course with competitive rates.
Try not to book directly on Bali rafting provider, this will make you get publish rates instead of our contract rates. There is no different of services, security or safety between publish rates and contract rates. You must be wondering how we able to give you less price if you make a booking with us instead of book directly on the rafting company provider.
The answer is, we are a tour agency that provide many client for doing white water rafting to company provider, this make us have a special contract rate with Bali rafting company. All of these make us able to give you lower rate rather than publish rate, so if you are first timer or have try rafting in Bali before please don't hesitate to book rafting adventure in Bali with us. We will keep maintain our services to our entire customer, because we believe happy customer is the best marketing agent. Bali Rafting Tours committed providing excellent service with totally reasonable price with only USD 35 for your memorable holidays in Bali.
Bali Rafting Tours Inclusions And What To Bring During The Activity :

BALI RAFTING TOURS INCLUDE :

• Air-Conditioned Return Hotel Transfer
• Welcome Drink on Arrival
• Safety Approved Rafting Equipment
• Professional River Rafting Guide
• Use of Towels and Shower Facilities
• Changing Room and Toilet Facilities
• Water Resistant Bag
• Locker
• Buffet Lunch
• Mineral Water
• Insurance Coverage


WHAT TO BRING :

• Short Pants or Swimsuit
• Change of Clothes or Dry Clothes
• Sunscreen (Recommended)
• Sport Shoes or Sandal
• Camera
• Money For Optional Drink or Souvenirs

Why Bali Rafting Tours :
• Your Tours and Activities are provided by Professional and Competent Staff
• Wide Selections of Tour and Adventure Activity
• Professional Tour Companies
• Huge Range of Bali Tour and Activities
• Easy Booking and Quick Confirmation
• No Currency Exchange Fees
• No Booking Fees
How To Book And The Booking Process :
THE BOOKING PROCESS :
• Complete The Booking Form to send your request
• Discussion, we answer all your questions regarding your inquiry
• Confirmation, we send your booking confirmation by email when all clear
• No booking fee, no deposit require from the activity or tour that you requested
• Payments, for rafting only you may pay upon arrival at rafting location and for rafting with tour you may pay upon start the tour
PRIVACY POLICY :
• Your reservation is absolutely secure, all personal data is encrypted and will be processed in a secure way. Bali Rafting Tours takes the privacy of your personal data very seriously. Your personal information will only be used to process your booking.